McKendree bass fishing recognized
Thu, July 30, 2015
Bear with me in this blog post, as I share a little fatherly pride. Following an enjoyable high school bass fishing career (finishing 3rd with his partner in the IHSA state finals as a junior), my son Austin wanted to continue fishing at the collegiate level. He committed to McKendree University (McK) as they started their inaugural season in the fall of 2013, and added bass fishing as a school-sanctioned sport.
In our first meeting with McK Coach Jon Rinderer, he had some lofty goals to make the Bearcats one of the top college fishing programs in the country. This year, in just its second season of fishing in the Cabela's Collegiate Bass Fishing Series, the school finished in 8th place nationally in the Cabela's School of the Year (SOY) race out of over 300 participating colleges from across the nation.
Austin was an incoming freshman last year at McK when the program kicked off. It was a year of learning for most on the team as they finished in 20th place in the SOY race. The 12-man team fished their way through deep ledges, big southern waters, and a grueling tournament schedule. And apparently, they found some time to go to class at some point, too!
This season, with an expanded roster and a year of experience under their belts, the team traveled to seven states and fished renowned waters like Lake Chickamauga, Kentucky Lake, Lake Murray, Pickwick Lake and Table Rock to name a few. They earned points at each tournament based on the highest finish of 1-2 boats in each tournament, and scored more points based on the number of boats in each tourney.
The school rose quickly in the SOY standings after the Cabela's Big Bass Bash (BBB) on Kentucky Lake in March when they sent 7 boats to compete. The fan-favorite big-fish format features 4 weigh-ins per day where each angler can weigh in one fish at each designated time. Austin finished in 7th place in the 2nd session of Day 1 with a 5.17 largemouth, which would turn out to be one of the biggest bass caught in Bearcat competition this year. He was followed closely by his McK teammate Brian McClanahan with a 4.92lb. brute smallmouth in the same session. Those two catches earned the Bearcats the highest number in SOY points of the season.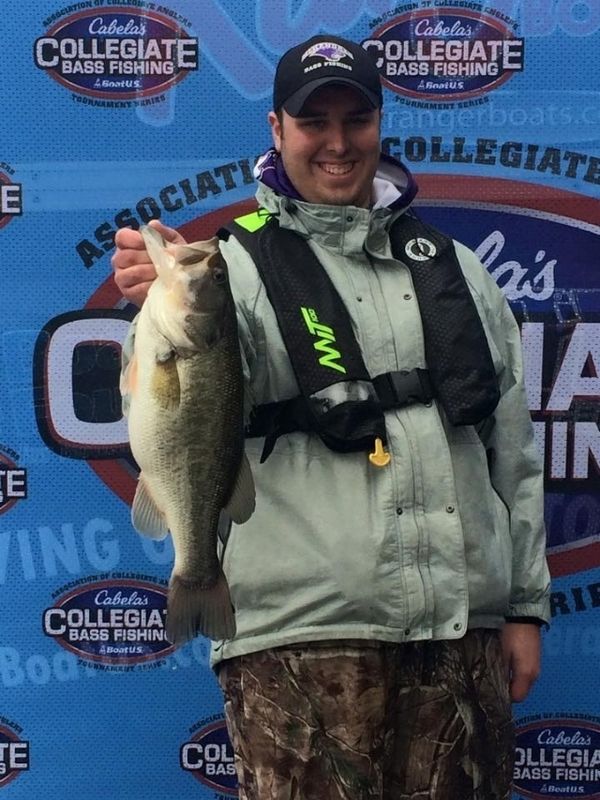 Unfortunately, this is the tourney that two of the McK boats lost a motor. And unfortunately, one of those had to be the Chapman's Evinrude! With a new 200hp Evinrude E-Tec installed a few days later, Austin was back on the water the following weekend. Let's hope we don't have to go through that again.
Overall, the team had several strong outings including 14 top ten finishes in tourneys with up to 200 boats. Included in that was a 3rd place finish at the Kentucky Lake FLW Regional which qualified anglers Phillip Germagliotti and Dustin Pendegraft to fish in the FLW National Championship. They also had boats place 2nd and 3rd at the Bassmasters/Carhartt Wildcard on Kentucky Lake qualifying them for the Bassmaster National Championship.
Here's Austin and his 2-boat team that finished in 8th place at the Cabela's Boat US Collegiate Open on Lake Chickamauga.
These collegiate events are huge. The BBB had nearly 300 college anglers competing. Competition is tough, and these kinds know what they're doing. Both years I've attended the BBB it took an 8 or 9 lb. largemouth to take big fish honors for the weekend.
The Bearcats also enjoyed great TV coverage at multiple events this season. After a good showing on Day 1 at the BBB on Kentucky Lake, Austin had a camera crew with him for a good part of Day 2. With that coverage due to be aired next week, I'm hoping he doesn't do anything to embarrass me TOO bad!
The team should get plenty of airtime during the Bassmaster's coverage as well, with two boats being in 1st and 2nd places at the end of the first two days of the Lake Barkley Wildcard event. Teammates Phillip Germagliotti and Shane Campbell, along with teammates Jordan Ledbetter and Trenton Robinson should feature prominently in the coverage as both had TV crews alongside most of the weekend.
The SOY race was won by the University of North Alabama with Murray State, another perennial powerhouse, in 2nd place. Other Illinois colleges competing in the Cabela's SOY race were:
University of IL – 27th place
Greenville College – 40th place
SIU-Carbondale – 47th place
Northern IL University – 52nd place
SIU-Edwardsville – 61st place
Illinois State – 87th place
Western IL University – 92nd place
IL Central College – 172nd place
Bradley University – 178th place
Moraine Valley CC – 287th place
Northwestern University – 289th place
The Cabela's Collegiate TV series kicked off on July 28th with Day 1 coverage of the BBB. Other episodes being aired each Tuesday at 11:00 am on NBC Sports Channel will be:
August 4th – BBB Day 2 on Kentucky Lake
August 11th – ACA Collegiate Bass Fishing Open – Day 1 on Lake Chickamauga
August 18th – ACA Collegiate Bass Fishing Open – Day 2 and TX Bass Shootout at Lake Texoma
August 25th – Overview of the Cabela's SOY race
September 1st – Cabela's/Boat US Bass Fishing Championship – Day 1 on Lake Pickwick
September 8th – Cabela's/Boat US Bass Fishing Championship – Day 2 on Lake Pickwick
Also look for coverage of the entire Bassmaster/Carhartt series including footage of all 3 of the tourney in which the Bearcats fished. This will be aired on ESPNU on August 1st from 9:00 am to noon.
McKendree University is one of the few colleges in the U.S. to offer scholarships for bass fishing. In addition, the school supports all competing anglers with travel expenses covering gas for the truck and boat, meals, fishing licenses, and hotel costs as well as supplying a full-time coach.
Congrats to Coach Rinderer and the entire Bearcats fishing team!
Comments